SNMP Query
The SNMP Query tool is used to interact directly with the SNMP agent using get, set, get-next, and get-bulk requests. Requests may be sent using one variable or many variables.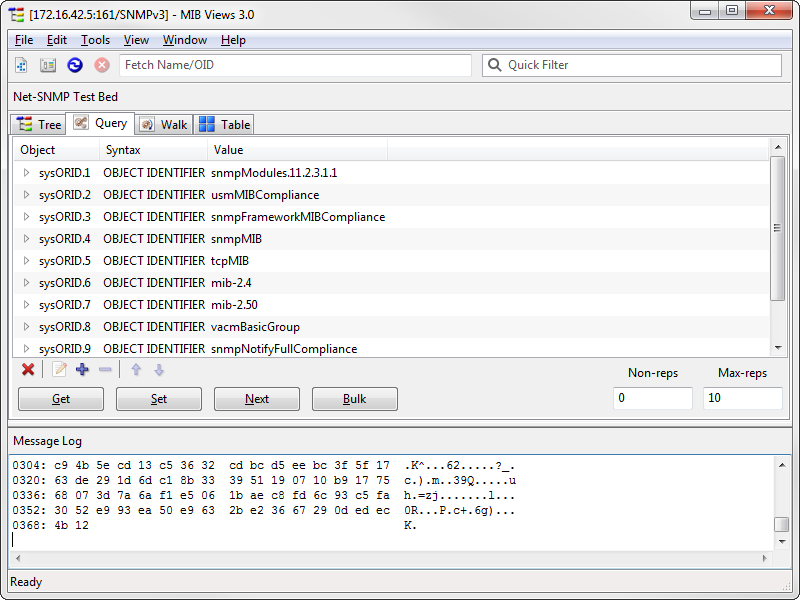 Figure - SNMP Query
To send a request with a single variable, simply enter its name or OID, and syntax/value for set requests, and click the Get, Set, Next or Bulk buttons. Use the Non-Repeaters and Max-Repetitions fields to control the number of variables that the agent should return in Get-Bulk requests (SNMPv2c and SNMPv3 only).
To send a request with multiple variables, follow the same procedures but use the List Add button to build the list of variable bindings. Once added, the Get, Set, Next and Bulk buttons will operate on the list. Use the List Reset button to clear the list.
Tip: Enter the name or OID (plus instance identifier) of an object into the
Goto
entry in the Toolbar for a quick get request on that OID.
Specifying OCTET STRING and BITS Values in Hex
OCTET STRING can be specified either as plain text or in hex. BITS values are always specified in hex. To specify a value in hex, use colon-delimited bytes and surround the value in single quotes (such as '01:23:ab:cd:ef' for a 5-byte string). To suppress conversion from hex, surround the value in pairs of single quotes: the outer pair will be stripped and the remaining string will be treated as literal (such as ''01:23:ab:cd:ef'' for the 16-character inner string).