MIB Views
MIB Views from Muonics, Inc. is an entry-level SNMP management application providing an easy to use tabbed interface with several SNMP Tools. The tools are based partly on those bundled in MIB Smithy, with a more consolidated GUI and new features. The suite includes MIB Browser (Tree View), SNMP Query, Table View, SNMP Walk and Trap Watch tools, with more tools and plugin features in the works. MIB Views supports SNMPv1, SNMPv2c and SNMPv3 with MD5 or SHA authentication and DES or AES encryption.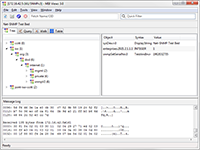 Tree-based MIB Browser interface.
Send custom set, get, get-next, and get-bulk requests
Walk a specific subtree or an entire agent.
Examine a table in whole or in part.
Monitor incoming notifications (traps and inform requests).
Major Features
Manage multiple agents at the same time.
Jump to desired data quickly with the web browser-like "goto" entry.
Filter lists and tables instantly with substring matching.
Examine hex dumps of sent and received SNMP packets in realtime
Supports community-based SNMPv1, SNMPv2c, and SNMPv3
HMAC-MD5-96 and HMAC-SHA-96 Authentication
DES/CBC and AES128/CFB Privacy (encryption)
Supported Platforms
Microsoft Windows (NT, 2000, XP, or later)
FreeBSD 6.2+ x86 (or compatible)
Linux x86/x86_64 (Fedora Core 7 or compatible)
Solaris 10+ SPARC (or compatible)
MacOS X 10.4+ PPC/x86
Other platforms are negotiable. Contact sales to discuss options.
Pricing
Single-User License: $95 (USD)
Includes 90 days technical support
All updates and upgrades for 12 months included at no additional charge
Download 15-Day Evaluation