MIB Smithy
MIB Smithy from Muonics, Inc. is a Windows and Unix software product for Simple Network Management Protocol (SNMP) and Common Open Policy Service (COPS) developers, Management Information Base (MIB) and Policy Information Base (PIB) designers and Internet-Draft authors. It provides an easy to use Visual GUI-based environment for designing, editing and compiling MIB and PIB modules according to the SMIv1, SMIv2 and COPS-PR-SPPI standards. The tool accelerates the development process by eliminating the syntax and formatting concerns of editing the specifications by hand, allowing rapid prototyping while ensuring maximum compatibility with other compilers.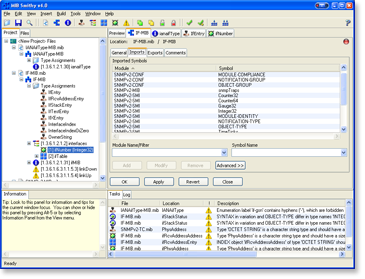 Which edition is right for you?
MIB Smithy Professional

Intended for serious SNMP/MIB developers. In addition to providing all of the features of MIB Smithy Standard Edition, the Professional Edition also comes bundled with MIB Smithy SDK -- usable both directly within MIB Smithy's Visual GUI as well as in a standalone Tcl/Tk interpreter for anything you would use MIB Smithy SDK for. Includes XML Import/Export support, MIB Browser, SNMP Walk, SNMP Query, Table View and Trap Watch Tools.

MIB Smithy Standard

Intended for users with tighter budgets and those who need an easy to use environment for creating and validating SNMP MIBs, with the ability to export XML and the commonly-used MOSY compiler format, but who don't need a lot of custom output generation features or integration with non MOSY-based tools. Includes XML Export support, MIB Browser, SNMP Walk, SNMP Query, Table View and Trap Watch Tools.

MIB Smithy SDK

A dynamic Tcl/Tk extension for developing your own SNMP management scripts and SMI conversion tools (with or without a GUI). MIB Smithy SDK is based on the core library that MIB Smithy Professional and Standard are built upon, providing the user an API with all of the internal capabilities of MIB Smithy (and benefits thereof) without the GUI. Includes XML Import support and built-in MIB validation so an external MIB compiler isn't needed (MIB Smithy SDK is its own compiler).
All editions support SMIv1, SMIv2, SNMPv1, SNMPv2c and SNMPv3.
Need more information to decide? Take a look at our Feature Comparison Chart.
Pricing
Single-User License: $349 SDK / $695 Standard / $995 Professional (USD)
Includes 90 days technical support
All updates and upgrades for 12 months included at no additional charge
Platforms Supported
Microsoft Windows (NT, 2000, XP, or later)
FreeBSD 6.2+ x86 (or compatible)
Linux x86/x86_64 (Fedora Core 7 or compatible)
Solaris 10+ SPARC (or compatible)
MacOS X 10.4+ PPC/x86
Other platforms are negotiable. Contact sales to discuss options.
Download 15-Day Evaluation